We are excited to announce Cyclehoop has launched in the US this August. The press release below details our bold plans and how we can add value to the US cycle parking and infrastructure market with our extensive experience. Read on to find out more!
Innovative UK Cycle Infrastructure Company Launches in the US
Leading UK cycle parking and infrastructure company Cyclehoop is excited to announce its US launch this August.
Cyclehoop specializes in planning, designing, installing and managing cycle parking solutions. Its mission is to help solve the problems faced by cyclists and urban planners as cycle infrastructure becomes more crucial in the fight against climate change.
As a team of keen cyclists, designers and architects, Cyclehoop's unique perspective allows them to develop products and solutions that serve both the client and end user.
Andy Lambert, CEO of Cyclehoop US said:
'The US is undergoing a sea change in its approach to cycling. This presents a fantastic opportunity for Cyclehoop to bring significant knowledge and experience and have a positive impact on the market. The increase in bike sales during the pandemic lead to a massive uplift in cycling. Likewise, escalating gas prices have seen people swapping car journeys for bikes. With more cyclists on the road, we're seeing a need for better cycle infrastructure and secure, safe places for people to park and store their bikes.'
Cyclehoop's flagship product, the Bikehangar® 4.0, is the only cycle hangar in the world with Sold Secure Diamond Accreditation, the highest security rating in the sector. The Bikehangar provides six accessible, secure, weather resistant and insurable cycle parking spaces within half the space of a car parking bay. With digital access options, a low-profile silhouette for user safety and built-in resistance to angle grinder attack, it is the go-to product for local authorities across London for the provision of residential cycle parking.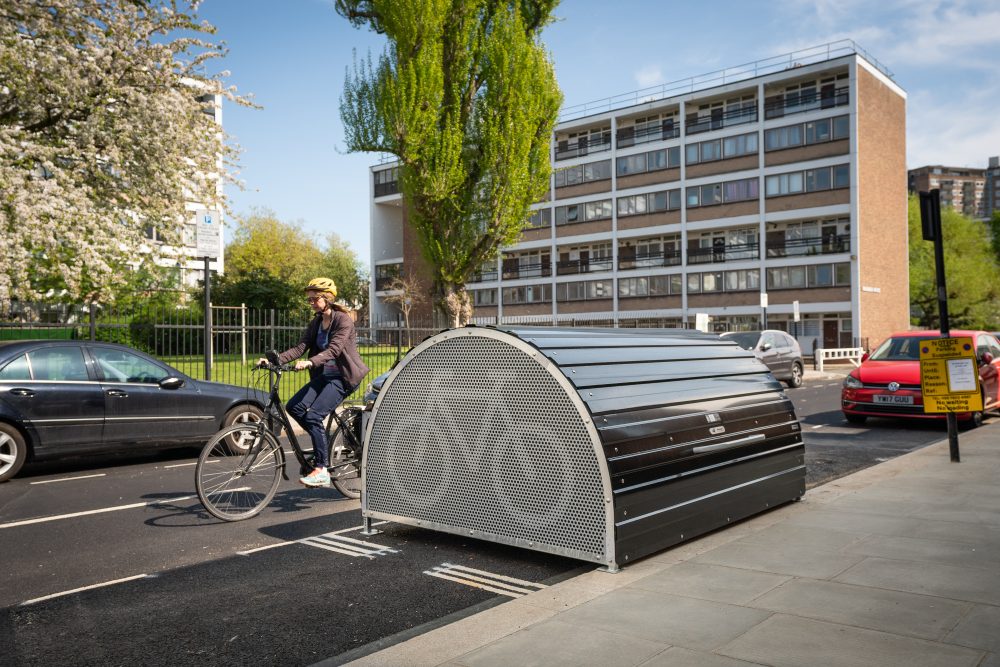 Bikehangars provide up to six safe and secure parking spaces
The US cycling infrastructure industry was worth approximately $60 million in 2019 and is estimated to have reached $100 million in 2022.
Cyclehoop is committed to sourcing and manufacturing in the US; the business is partnering with fabricators based in Minnesota and Wisconsin who have a combined 30+ years in the cycle infrastructure industry.
Andy is confident that this increase in the popularity of cycling is a great opportunity for the business and the sector as a whole:
'Cyclehoop's innovative approach to cycle infrastructure makes it the obvious choice for cycle safety and for the urban planners looking to shape the future of their cities.'