*This article is part of a series highlighting the four panelists who are speaking at the 2023 Velo-city conference in Leipzig, Germany on Thursday, May 11th. The panel discussion is titled, "When a Fire Starts to Burn: Creating Community Mobility Rituals to Support Cycling Culture and Drive Policy Change".
Curly Bloxks is a 32-year-young dental assistant originally from the Lower East Side of Manhattan with over 109k followers on Instagram (@curlybloxks and on YouTube @curlybloxks6612). You might be thinking, "she must be one hell of a dental assistant!" when in fact she's one of the grand matriarchs of the burgeoning subculture known as Bike Life. Or as she puts it, "In the daytime I'm a dental assistant, in the nighttime I'm a BMX rider." as she laughs with a huge smile on her face.
"In the daytime I'm a dental assistant, in the nighttime I'm a BMX rider."
From Oakland to New York City to London, Bike Life is uniting people of all ages, races, backgrounds, genders, and socioeconomic statuses into a family-like atmosphere where being positive and having fun on bikes are the glue that holds it all together. Curly was first exposed to this scene in 2017 while walking to the store on her block. She saw three guys doing tricks on BMX bikes and was captivated by what they were doing. She found their social media pages where they had posted tons of footage doing wheelies and other crazy tricks and she was blown away. At that moment, she knew this was for her.
She later heard about a ride-out (a.k.a group social ride) that was happening in her neighborhood where the "wheelie kids" hang out. While she felt a bit intimidated at first, she quickly found everyone there was really nice and just there to have fun riding bikes. She settled in and went along for a ride. Afterwards, she became more determined to learn the tricks she saw people doing, and the first step was getting the right kind of bike. Inspiration had stirred something inside Curly and she was determined to ride a wheelie.
She saved money from her dental assistant job and got something a little better suited for wheelies than her skinny-tired Cannondale with unraveling bar tape. This new bike wasn't her dream bike, but it was a step up from what she had. Then it was all about studying people's videos, asking the guys for help (because there weren't many other women in the scene at the time) and practicing any chance she got in a nearby parking lot. This was around March of 2020 and the pandemic had shut everything down, so Curly had some extra time on her hands to nurture this new found hobby. Little by little, day by day she got better and some of her girlfriends started joining her. According to Curly, learning to ride a wheelie is something you have to feel. She figured things out by learning from her mistakes and never giving up. Eventually, a proper BMX bike came her way and that's when the rockets of her potential were lit and the countdown to take off started.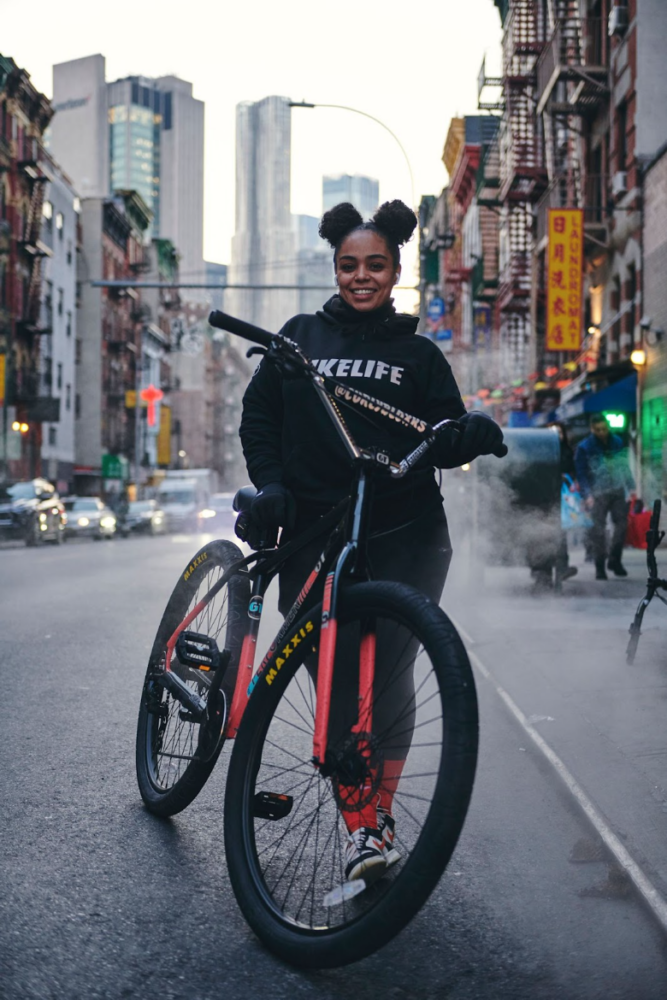 Curly's wheelie skills started getting noticed, partly because she was often the only woman weaving through traffic on her rear wheel among a sea of men and boys, but mostly because she's damn good at it. In late 2020, Curly was offered a sponsorship by Mafia Bikes (where she met Freya Scull-Lomax) which meant free equipment, photo and video shoots and travel to destinations all over the US and to Puerto Rico. Ten years from now when people ask Curly, "What did you do during the lockdown of 2020?" she could respond, "I taught myself how to ride a wheelie, got sponsored for it, and built a base of 109k followers on Instagram in about two years. What did you do?"
Curly has appeared in videos and done interviews and photoshoots with media and sponsors from coast to coast, and occasionally gets noticed on the streets of New York City. Without a doubt, Curly is one of the most influential American women in the Bike Life movement. She motivates countless young girls and women to get involved which is creating a safer space for them to step out of their comfort zone and try something new. All because she explored a curiosity that struck her while walking to the store one day and had the courage and determination to step out of her comfort zone. We would all do well to follow her example.