*This article is part of a series highlighting the four panelists who are speaking at the 2023 Velo-city conference in Leipzig, Germany on Thursday, May 11th. The panel discussion is titled, "When a Fire Starts to Burn: Creating Community Mobility Rituals to Support Cycling Culture and Drive Policy Change".
Can you point to a personal experience from your childhood that has a direct through line to your chosen career path? Maybe it was a teacher or a coach that had a positive influence in your life. Or, maybe it was a difficult experience that sparked a fire for changing the way things are? Najari Smith, the founding Executive Director of Rich City Rides, a non-profit organization based in Richmond, CA has a pretty clear example of this. 
Najari's relationship with bikes started from the kid seat on the back of his Mom's white Peugeot bike. She would take him around the neighborhood where they lived in Brooklyn, NY and frequently visited Prospect Park. As he got a little older, he moved on to a big wheel and then eventually got a BMX bike. The bike was red and black and since Najari was a fan of the "Knight Rider" television show, he nicknamed it "Kit." 
He and his friends honed their riding skills around the neighborhood, gradually going further and further out into their community to explore. They built ramps for jumping and doing daredevil tricks, awarding each other points for the best and most difficult tricks. Eventually, his bike needed some minor adjustments as parts and hardware started getting loose. 
Then one day he got a flat tire. At the time, there were no bike shops nearby to fix it or stores that sold the parts and tools he needed. Kit turned into a glorified coat rack in the Smith family living room. Then one sad day, the bike was gone, and this is where Najari's through line starts. 
If you've ever lost a bike, especially as a kid, you know how heartbreaking that experience can be. No more exploring the neighborhood with friends, no more daredevil tricks or feelings of freedom to go wherever your curiosity leads you. This was an experience that still influences the way he and his team at Rich City Rides activate programs and engage with the community in Richmond. 
In fact, one of the first public events that Rich City Rides held was a free bike repair event on the Richmond Greenway. Folks from surrounding neighborhoods brought their bikes to get free repairs from Rich City Rides staff, and community members could also donate bikes to those in need. Had this kind of opportunity been made available to Najari back in the 80s, he might still have that sweet BMX bike. 
Rich City Rides's mission has three pillars:
Create opportunities for the most vulnerable members of society by using cycling to improve health, economic stability, and individual and collective capacity.
Increase access to cycling for all community members.
Promote cycling as a social, sustainable, and green mode of transportation.
The organization's vision is to be the hub, nest, and incubator for community bicycling for sustainable transportation, physical and mental health, and human-to-human connections. They live their mission and vision every day through community engagement, advocacy, bicycle social rides, skill building and developed a cooperatively owned and managed bicycle shop. 
Another important first action the organization took was putting together a photo-journal project to visually capture the diversity of riders in Richmond and prove that people in that community actually ride bikes. At the time, City Hall wasn't aware of who or how many people rode bikes in their city. And, due to a lack of organized rides for casual cyclists in Richmond, people didn't ride together as a group, so Rich City Rides started organizing Community Mobility Rituals (CMRs). 
Pro tip for anyone interested in organizing a social ride: bring music and bubbles. Najari and his crew like to tell riders to watch the bubbles and see how they spread out and swirl but never run into each other…be like the bubbles, have fun and stay safe!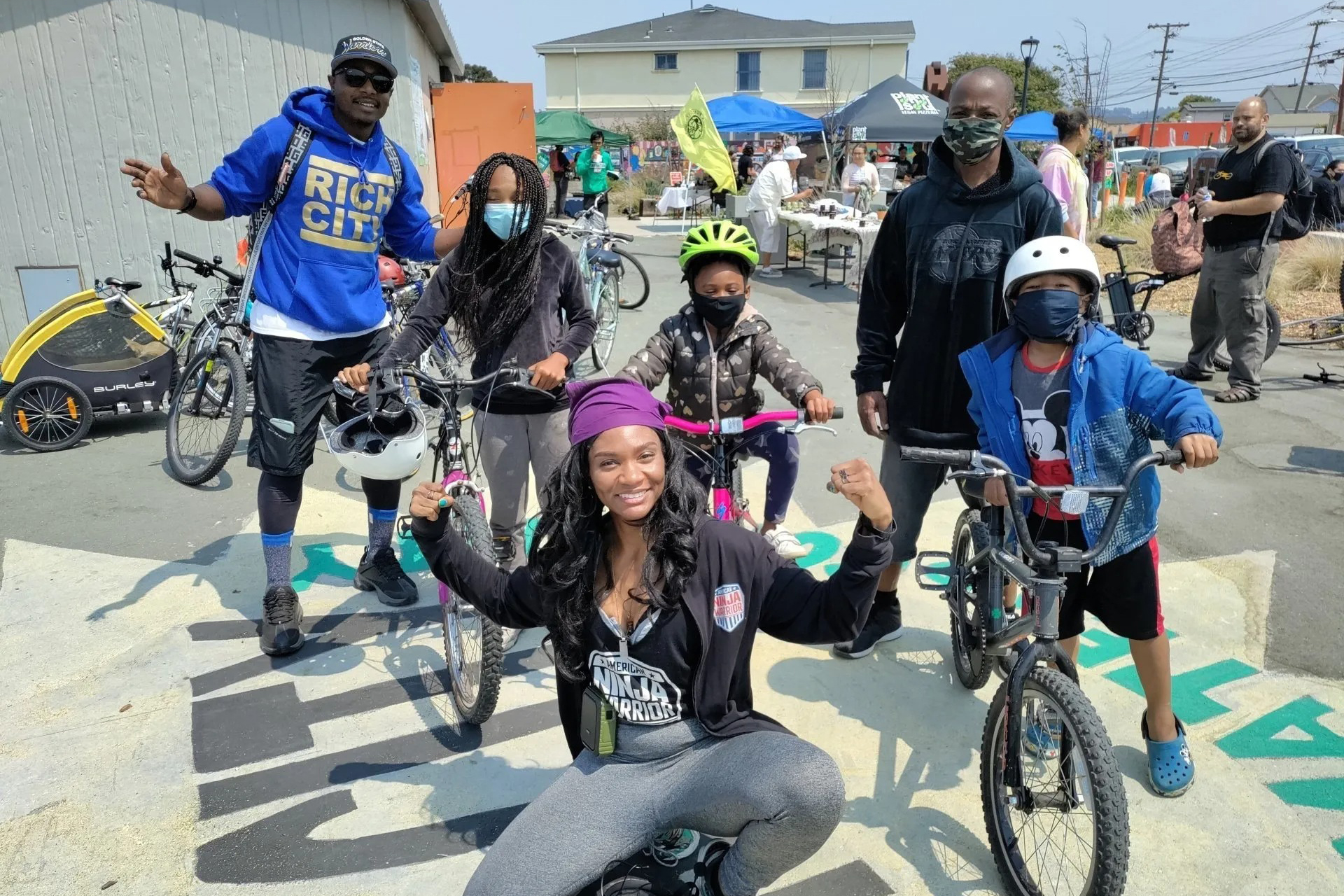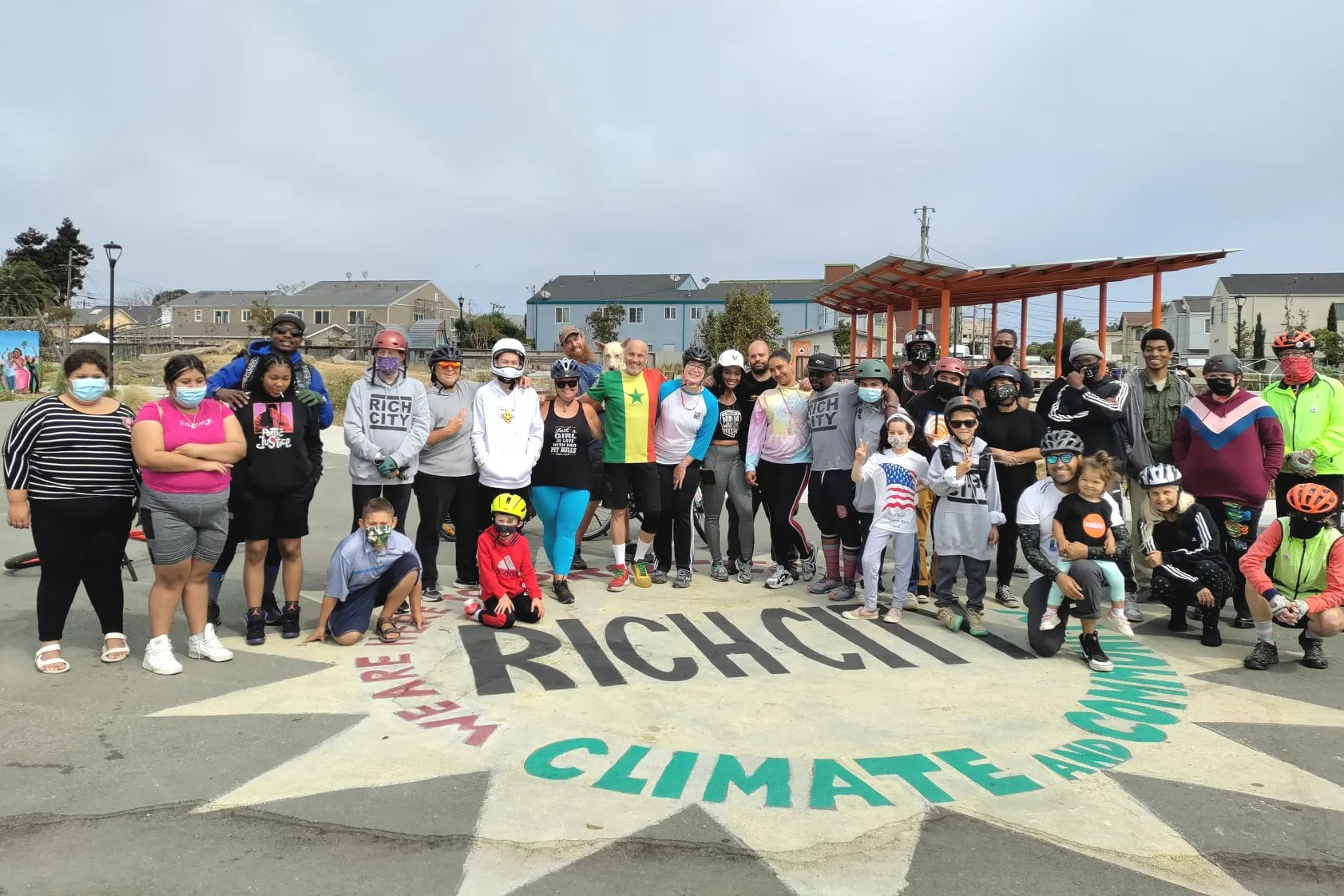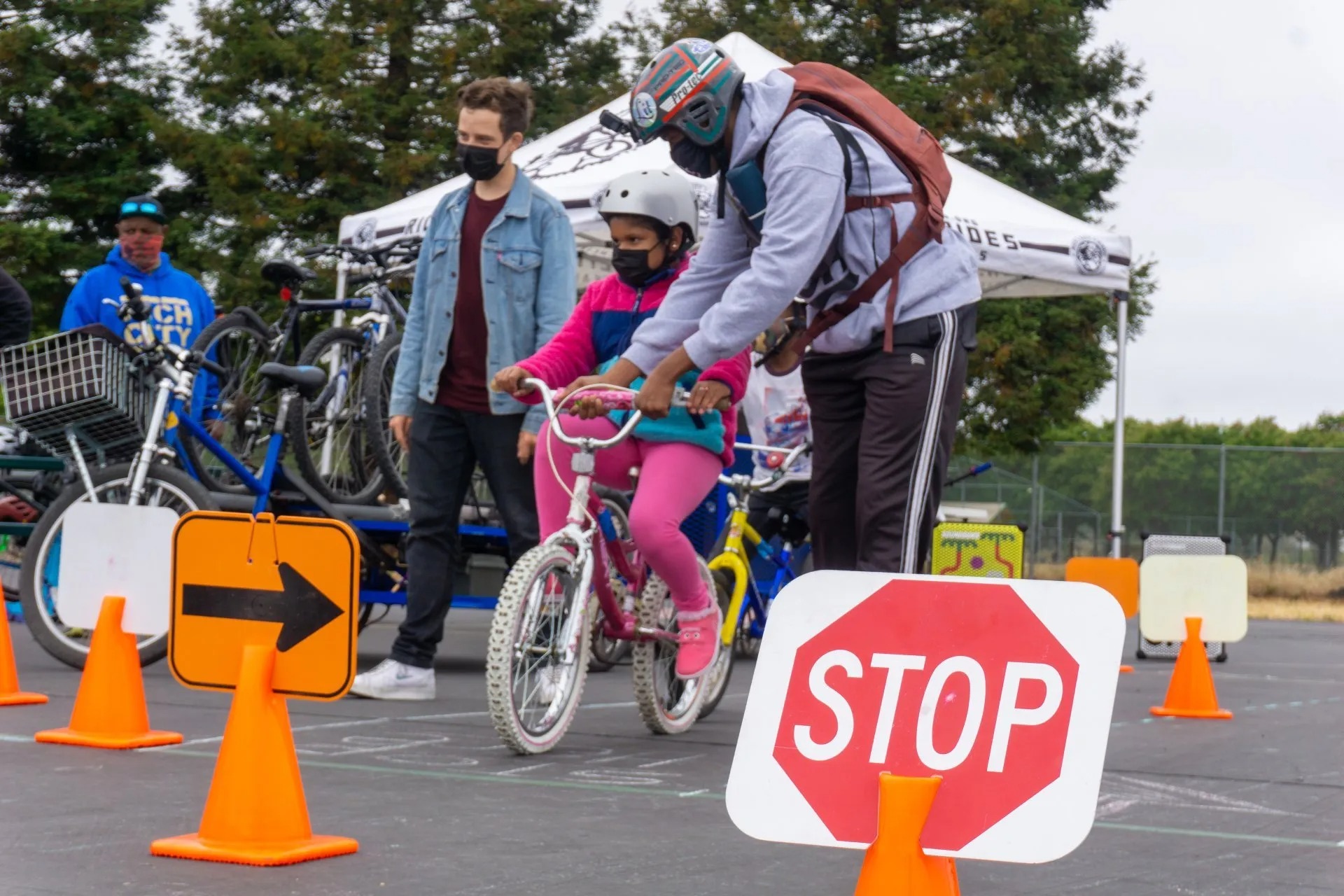 According to Najari, bikes are the magnet that bring people together in a way that breaks the ice and flattens barriers that may have previously kept them apart. However, bikes don't just connect people, they connect people with their built environment in a sensorial and experiential way that inspires action. 
There are over 50 parks in Richmond and Rich City Rides makes a point to visit at least one park in every social ride that they plan. This means riders see the conditions of the parks and other places in their community that might be neglected. Efforts to organize park clean-ups have resulted from these rides as well as informing how the community addresses homelessness. Community members have also been inspired to get involved in the City's parks master planning process and advocate for park assets, including the funding sources to build and maintain these assets. Examples include good lighting, bathrooms, water fountains, benches, and playground equipment. Rich City Rides also has a liaison with the local Bicycle Pedestrian Advocacy Committee. 
These are just a few examples of the potency of community engagement and organizing CMR's. These activities nurture the reimagining of a place, build trust between neighbors, and inspire taking accountability for our individual roles in building bridges with others where they didn't previously exist. 
All of this merely scratches the surface of what Rich City Rides is doing in their community. Their most pressing challenge currently is securing their homebase, the "Mothership". Their landlord has given them a deadline to raise $6m to purchase the buildings that currently house their programs and services. Rich City Rides is committed to continuing their work because they know it will have generational impacts on the wellbeing of their community and provide hope to future generations. 
To learn more about Rich City Rides or to contribute to their "friendraiser" to purchase the Mothership, please visit https://www.richcityrides.org/ It is vital that they retain their current location which allows them to continue the community-healing work that their programs achieve. They have a big vision that includes a childcare cooperative, affordable housing, and a wellness hub that will build power within the Black community and give a sense of ownership. Please consider donating today!